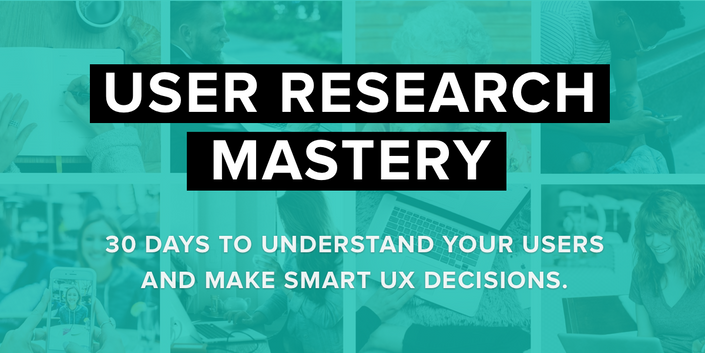 User Research Mastery Toolkit & Course
30 days to understand your customers, make smarter product decisions, and grow your business.
Watch Promo
Enroll in Course

Do you feel disconnected from your users?

Is getting buy-in for research a struggle?
Are you tried of your team "guessing" about which features to build?
Do you want to use data to drive product and design decisions..
Are you overwhelmed trying to figure out where to start when it comes to actually doing research? Tried of all that Googling?
Do you struggle to figure out how to do research without slowing down the development process?


Do more user research & usability tests so you can create a product customers love.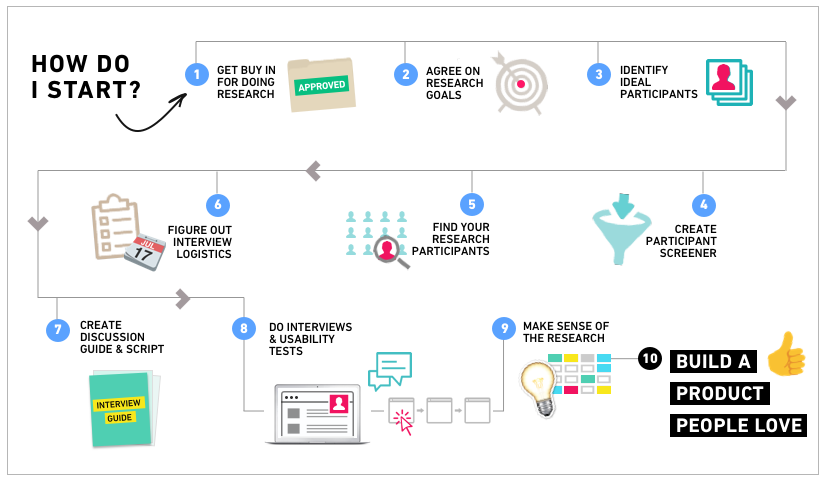 "This program helped me do my first user interview a few weeks ago, and the interview guide is pure GOLD."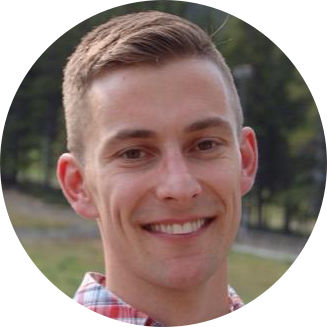 SHANE
Web Developer from, London, England
INTRODUCING

User Research Mastery
A step-by-step blueprint to help you and your team do user research interviews and usability tests.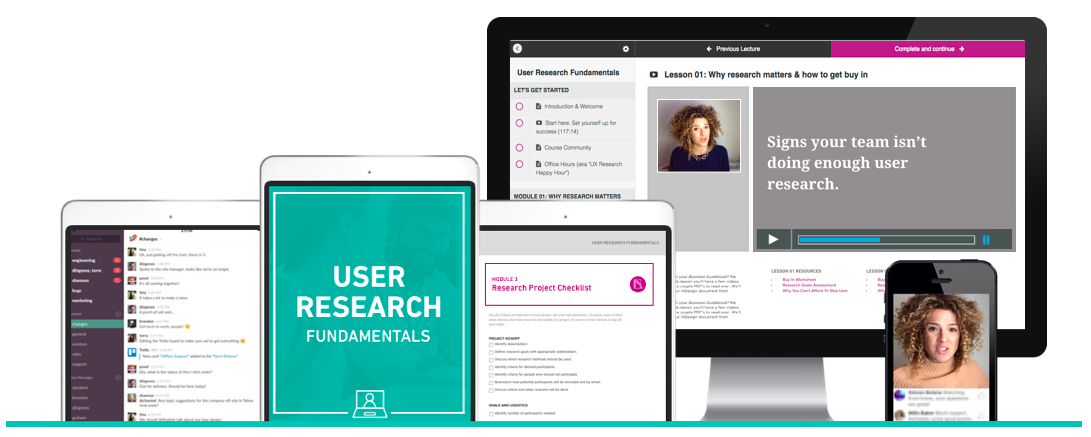 Here's what you'll learn in User Research Mastery:


🔮 How to get buy in for user research from executives and stakeholders.

🔬 How to decide what to research and which method to use.

👀 What to write in a screener so you can talk to the right research participants.

⭐️ How to find research participants on your own or with a recruiting firm.
💬 What you must have in a discussion guide and interview script.

🔎 How to make sense of & present your research findings.

🚀 How to integrate research into your UX process.

📕 How to make research a habit and not a one time thing.

Take an inside look at what you get in User Research Mastery.


I'm Sarah Doody, nice to meet you!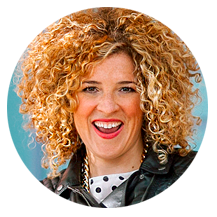 Before you ask,
YES this is my real hair!
2015: Founded The UX Notebook, a weekly UX email and education collective focused on helping people learn how to think like a designer.

2012: Went full time as self employed with my own UX consulting business.

2011: Co-created curriculum for and taught General Assembly's first ever 12-week User Experience Design course.
2007: Moved to NYC to get started in the roller coaster world of tech startups.
---
Some of the places I've taught, spoke, & written:


"I got more from this program than from some in-class courses and conferences."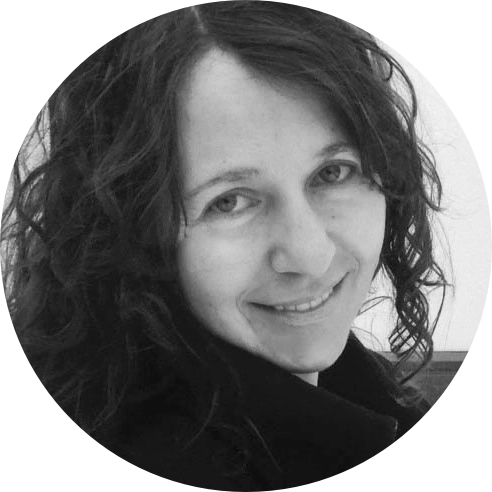 MINA
UX Designer from Vancouver, Canada
Templates & Resources To Ensure You Reach Your Research Goals

Research Goals Template
Align stakeholder expectations and get buy-in for research.
Participant Screener Template
Ensure that you identify and find the right participants for your research.
Interview Discussion Guide & Script
Learn how to structure an interview and how to ask the right questions at the right time.
35 Example Interview Questions
Tthese questions will help you write an effective interview script and discussion guide.
Research Project Checklist
A 65-point checklist of all the details you could consider when planning research.
Template For Note-Taking
Establishing a structure for note-taking makes reviewing your research findings later.
Findings Presentation Layout
It's one thing to do the research, it's another thing to present the findings in a meaningful way.
Course Curriculum
LET'S GET STARTED
Available in days
days after you enroll
MODULE 01: WHY RESEARCH MATTERS
Available in days
days after you enroll
MODULE 02: RESEARCH GOALS
Available in days
days after you enroll
Over 100 people have done this program.
Here's what some of them have to say: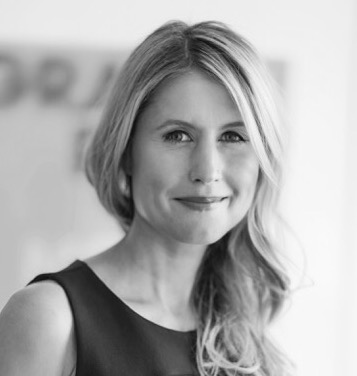 "I consider this course part of my support system! It helps you to have those difficult conversations with stakeholders who may be resistant to research. The course is a fantastic refresher / companion for someone who does search regularly and a great guide for someone who is just starting or wants to do more research. "
- Olya, Product Manager in New York City
"Great materials. Well organized. Great integration of video, worksheets, Slack and Office Hours."
- Andrew, UX Director in Santa Ana, California

"I learned a TON about UX overall, which I very much needed and the templates are extremely helpful to jumpstart my team in the research world."

- Jared, UX Designer in Austin, Texas
Frequently Asked Questions
When does the course start and finish?
The course starts as soon as you purchase it! You can do it on your own schedule, so there's no pressure to keep up with it. I know that many students will do this as part of their job. The reality is, that things pop up at work all the time. So by keeping the course self-paced, it's easier to work it into your own schedule and life.
Are there Office Hours for this course?
No, there are not any Office Hours. If you have questions, you can email Sarah and she will respond with an answer or quick video.
How long will the course take to complete?
The course is divided into 5 modules. I estimate that it will take you 4 weeks to complete the course, including watching all the videos and doing the exercises. I know that you're likely trying to fit this into your work schedule, that's why we kept the learning videos bit-sized. We want you to be able to fit this into your existing schedule.
Do you offer any discounts?
We don't. But we recommend that you ask your employer to sponsor the course. We've seen many employers pay the full price or pay part of it for the students because they realize how valuable the skills are that students will learn and be able to apply to their jobs, immediately. Please contact us if you want a copy of this letter. Or, you can find it above on this course page. Sorry, we can't link to it from this FAQ (bad UX on the part of the platform we're using!!!).
Do you have pricing for teams who want to take the course together?
Yes. If more than 10 people from your company want to enroll in User Research Mastery, then please contact us at
[email protected]
and tell us how many people want to take the course so that we can get back to you with pricing.
Will I receive a certificate?
Yes. If you do all the modules, you'll receive a certificate of completion. The certificate is not meant to indicate proficiency or expertise as a certified researcher. It is simply meant to communicate to your colleague or manager that you went through all the modules.
Do you offer refunds?
Due to the digital nature of this program and the fact that it contains many instantly downloadable worksheets, templates, and more, I am not able to offer a refund. Unfortunately, I've had people abuse the previous refund policy – enroll, download materials, and then ask for a refund. This no refund policy is in place to help deter people from doing this because every refund results in admin tasks that take time away from serving my paying customers!
Is there a Slack or student community?
No. There used to be but that has been discontinued until further notice.